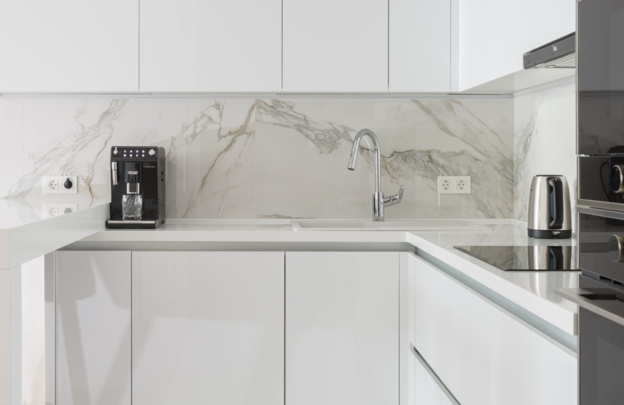 Buying kitchen taps involves decisions around style and design that you may not have been prepared for, and making the right choice can be a challenge. With this in mind we are going to take you through some of the finer points of the most favored kitchen tap, the mixer. Homes throughout the country count on these taps in the kitchen more than any other room, preferred for their flexibility, attractive look and ease of use. Not all mixer taps are made alike and here are some of the decisions that you are going to have to make.
Getting The Right Mount
Firstly you are going to have to decide on where this kitchen tapware choice is going to be mounted. The two main options here are to mount your taps on the wall above the sink, or on the top of the sink itself. Let's take a quick look at the pros and cons of each option.
 Under Mount Kitchen Mixer
This is the most common choice for most homeowners, and the traditional option for placing the kitchen taps. The main benefit of choosing to put the taps on top of the counter or the sink is that they are very easy to install. Using the hoses from below the sink you simply pull them up through the pre-cut holes and add the mixer on top. All mixers can be easily installed in this way. Unfortunately you do lose some space when you install taps in this way.
Wall Mounted Kitchen Mixer
With a wall mounted kitchen mixer you will find that you open up the space above the sink, which enables you to add products such as a caddy for your dishwashing items. This is not only functional space but it gives a much more elegant finish to the sink area. The installation for wall mounted taps is much more invasive and you may have to remove some tilework in order to run the plumbing up behind the sink unit.
Variety of Design
Deciding on that mixer is right for you will largely depend on how you plan to use it, in terms of how much washing and food preparation you generally do. Let's take a look at some common options.
 Single Lever –  These are simple to use taps with one lever and a single spout, easy to use and to control the temperature, albeit with limited spray.
 Pull Out Spray Mixers – These kitchen mixers are ideal for double bowl sinks, with one bowl being used for food prep or for rinsing dishes. Often these are chosen as a second tap, where a more traditional option is preferred for the other bowl.
 Dual Lever – These taps have a single spout and a lever for each hot and cold water. Often these have a high arc for a spout which look great and are relatively easy to use. The downside here is that temperature management is not as easy as a single lever.
In reality you cannot go wrong with kitchen mixers, they look great, work well and no matter how you use the tapware in the kitchen, there will be an option that will suit the style and the function of your kitchen.